UGEARS

UGEARS Pneuamatic Engine Kit
Overview
The kit has all you need for assembly: a set of high-quality plywood boards with precisely cutout parts, detailed step-by-step instructions, and additional details. The quality and accuracy of the parts is very high due to a laser cut method we employ.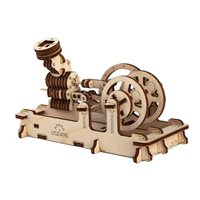 UGEARS Pneuamatic Engine Kit
Usually ships in 1-3 business days.