Bose

Bose Sound Link Micro - Black
Overview
It doesnt really matter what youre doinghiking, biking, cooking dinner or hanging out. You need music. We designed a speaker that keeps pace with all of your adventures and delivers unmatched sound for its size. The SoundLink Micro speaker is small, but powerful. Super rugged and waterproof. It features a tear-resistant silicone strapso you can take it along wherever you go. Because, when a speaker this small sounds this good, youll never want to leave it behind.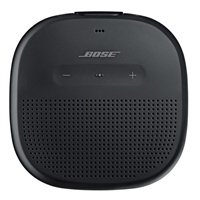 Bose Sound Link Micro - Black
Usually ships in 1-3 business days.