UGEARS

UGEARS U-Fidget Ships
Overview
The best model for those who are just beginning to learn UGEARS. Easy to assemble, compact design. A great souvenir for children and adults. It can be used as a trinket for your keys or bags. The moving gears make it an excellent fidget object.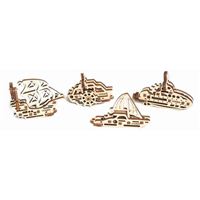 UGEARS U-Fidget Ships
Usually ships in 1-3 business days.