TP-LINK

TP-LINK JetStream 24-Port Gigabit Smart Switch with 4 SFP Slots
Overview
TP-LINK JetStream Gigabit Smart Switch T1600G-28TS is a cost-effective product solution for small and medium-sized business which provides high performance: powerful L2 and L2 features like static routing: enterprise-level QoS and useful security strategies. Equipped with 24 gigabit RJ45 ports and 4 SFP slots: T1600G-28TS supports multiple useful features. Static Routing helps route internal traffic for more efficient use of network resources.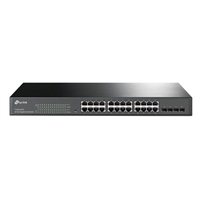 TP-LINK JetStream 24-Port Gigabit Smart Switch with 4 SFP Slots
Usually ships in 1-3 business days.