Tinkineer

Tinkineer Mini Skate Park Maker Kit
Available for In-Store Pickup Only.

Overview
Illustrated instructions and helpful tips make it amazingly easy to build until - Click! - The last piece is pushed into place and you're ready to ride! Just start turning the crank - A multi-gear lift gets your marble into position to make the big jump, roll back and forth down the big set of stairs, and slide smoothly along the curving railway. Meanwhile, the educational fun is extended even further with the included graphic novella where kids are introduced to two new physics concepts: Projectile motion and centripetal force. Laser-cut wood construction set for building a gear-powered marble run. Encourages fine motor skills, visual-spatial skills, logic, scientific learning, an interest in physics and engineering. A totally radical learning experience for beginner engineers! Made entirely of strong, laser-cut wood parts - Follow instructions to glue and slide them together just right. Features big jump, back-and-forth stairway, curving rail track. Hand-cranked, doesn't require batteries, no tools required besides household white glue - Glue not included. Accompanied by graphic novella - Teaches about projectile motion (motion of an object under influence of gravity), centripetal force (which acts on objects moving in a circular path). Detailed, illustrated building instructions and learning materials included. Build time: 1 to 2 hours, difficulty: beginner. High quality design with strong, Baltic Birch wood and metal accessories - Built for lasting durability. Made in the U.S.A.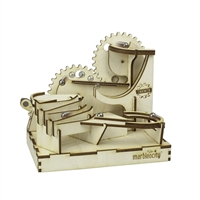 Tinkineer Mini Skate Park Maker Kit
Available for In-Store Pickup Only.