Tinkineer

Tinkineer Mini Coaster Maker Kit
Available for In-Store Pickup Only.

Overview
Illustrated instructions and helpful tips make it amazingly easy to build until - Click! - The last piece is pushed into place and you're ready to ride! Just start turning the crank - The marbles are carried by the gears one by one to the top. Then - Watch! - They roll around the curve, drop down a slope, glide around another curve, drop from level to level, slip through the tunnel, and land right back into the gear lift, ready to do it all over again. Laser-cut wood construction set for building a gear-powered roller coaster marble run. Encourages fine motor skills, visual-spatial skills, logic, scientific learning, an interest in physics and engineering. Action-packed fun powered by brilliant engineering! Made entirely of strong, laser-cut wood parts - Follow instructions to glue and slide them together just right. Features big slope, smooth curves, back-and-forth track drops, unique gear-lift system. Hand-cranked, doesn't require batteries, no tools required besides household white glue - Glue not included. Accompanied by graphic novella - Teaches about conservation of energy, momentum, and more. Detailed, illustrated building instructions and learning materials included. Build time: 1 to 2 hours, difficulty: beginner. High quality design with strong, Baltic Birch wood and metal accessories - Built for lasting durability. Made in the U.S.A.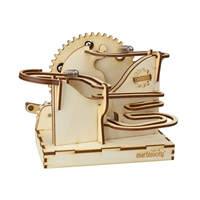 Tinkineer Mini Coaster Maker Kit
Available for In-Store Pickup Only.