AMX3d

AMX3d 3D Print Clean-Up Kit - 17 Piece Steel Collet Knife Set with Self-Healing Cutting Pad
Overview
Our 17 piece hobby knife set and compact, durable 3" x 5" self healing cutting pad makes it easy and safe to trim the finished models with precision and safety! Set your model on the cutting pad to protect your furniture and ensuring the knife blades stay sharp. Work anywhere! The 17 piece knife set features steel collets for strength and durability.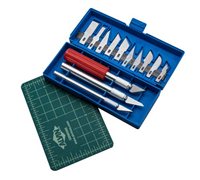 AMX3d 3D Print Clean-Up Kit - 17 Piece Steel Collet Knife Set with Self-Healing Cutting Pad
Usually ships in 1-3 business days.