Griffin

Griffin Reserve USB-A 9,000 mAh Power Bank - Black
Overview
Reliable, safety-tested and certified portable power where and when you need it. Reserve Power Banks deliver safe, dependable power for phones, tablets, GPS units, wearable and most other devices that charge via USB. The standard USB port delivers 12 watts of charging power (5 volts at 2.4 amps) for fast, safe charging. LED power gauge shows the battery's charge capacity with the push of a button. Slides easily into any pocket, purse, back or backpack so you're never without power. Built-in power management circuits prevent the battery from overcharging, and from charging the attached device at a rate faster than it can safely handle.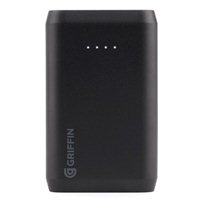 Griffin Reserve USB-A 9,000 mAh Power Bank - Black
Usually ships in 1-3 business days.