Verbatim

Verbatim 64GB Store n Go Dual USB 3.1 Flash Drive USB-C Blue
Overview
Transfer files quickly and easily between your USB-C equipped mobile device or laptop and other PCs using Verbatims Store n Go Dual USB Flash Drive for USB-C devices no wireless connection or data plan usage required. Instantly add storage to your USB Type-C phone or tablet, so you have room to capture more photos, shoot more video or free up space for apps.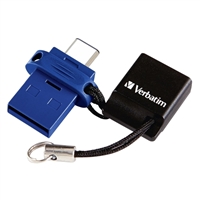 Verbatim 64GB Store n Go Dual USB 3.1 Flash Drive USB-C Blue
Usually ships in 5-7 business days.