Swann Communications Swann Communications Add On Bullet Camera

Indoor/Outdoor; 5MP Resolution; 100 ft. IR Range; BNC Connectivity
Overview
Indoor/Outdoor
5MP Resolution
100 ft. IR Range
BNC Connectivity
BNC Connectivity
AC Powered
These security cameras feature Swanns True Detect PIR Thermal Sensing technology to reliably detect heat-generating moving objects, such as people, large pets & cars. With more accurate motion detection you have more reliable notifications & recording, eliminating false triggers such as falling leaves, bugs, rain & more, saving you hard drive space & playback time.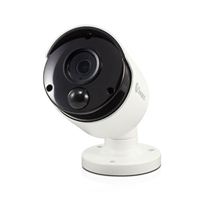 Swann Communications Add On Bullet Camera

Indoor/Outdoor; 5MP Resolution; 100 ft. IR Range; BNC Connectivity
Usually ships in 1-3 business days.