Hawking

Hawking High Power Outdoor Wireless Access Point
Overview
Hawking Technology's HPOW5CM puts multiple solutions into one weather proof outdoor unit. The High Power Outdoor WiFi Access Point with AP Controller functions as an Outdoor AP Controller, Access Point, Ethernet Bridge, Universal Repeater, Router and WISP Router. Additionally, two internal 5dBi Omni-Directional antennas are built into the unit to provide 360 network coverage. It features a Power over Ethernet connection and includes wall and pole mounting kits for easy installation and setup.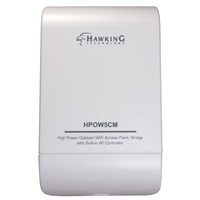 Hawking High Power Outdoor Wireless Access Point
Usually ships in 1-3 business days.