Overview
Pi-BB is a powered half-size breadboard ideal for Raspberry Pi, and compatible with Arduino & other development boards. Use with a Raspberry Pi or standalone for prototyping work. 300 connection points make it convenient to attach any peripheral and access 3.3V as well as 5V from the Raspberry Pi.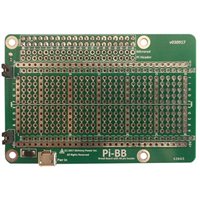 Alchemy Power Inc. Pi-BB
Usually ships in 1-3 business days.