Digipower

Digipower re-fuel Digital Camera Travel Charger for Canon
Overview
The re-fuel TC-55C digital camera battery charger is the ideal companion when traveling. Recharge your compatible Canon battery with this universal portable charger when you are at home or on the road. The TC-55's innovative design eliminates worries about compatibility, allows you to charge an additional USB device, and makes it easy to store. Fold-away wall plug and automatic multi-voltage switching allows for convenient charging in most countries around the world Auxiliary USB port allows you to charge another USB device while charging your camera battery. The LCD display shows current battery level and charging status.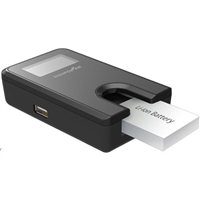 Digipower re-fuel Digital Camera Travel Charger for Canon
Usually ships in 5-7 business days.