eero

eero Pro WiFi System - 3 eeros 2nd Generation

Overview
The ultimate WiFi experience. The Pro systems comes with three tri-band eeros. Their built in Ethernet ports and powerful mesh make this system the perfect solution for work from home professionals, entertainment systems, and homes with Ethernet wiring.
Thinking of leaving your cable provider?

You'll find helpful articles and FAQs about cutting the cord in our Tech Center.
---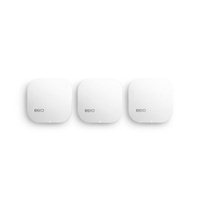 eero Pro WiFi System - 3 eeros 2nd Generation