Westinghouse

Westinghouse WA43UFA1001 43" Class (42.5" Diag.) 4K Ultra HD Smart LED TV w/ Amazon Fire

Overview
Delivering stunning 4K UHD picture quality with the Fire TV experience built in, this is a smart TV that seamlessly integrates your favorite content on the home screen " including live over-the-air TV broadcasts and streaming apps and channels. With the included Voice Remote with Alexa, its easy to browse and discover new content. Use your voice to control live TV playback, launch apps, search for TV shows, play music, switch inputs, control smart home devices, and much more.
Thinking of leaving your cable provider?

You'll find helpful articles and FAQs about cutting the cord in our Tech Center.
---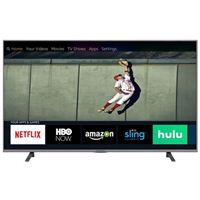 Westinghouse WA43UFA1001 43" Class (42.5" Diag.) 4K Ultra HD Smart LED TV w/ Amazon Fire