Accell

Accell Power Travel Surge Protector - 3 Outlets, 2 USB Charging Ports (2.1A Output), Folding Plug - Black, 612 Joules, Etl Listed
Overview
The Homeor Away Power Station is the ideal power solution for use at home or when traveling. It provides 612 Joules of surge protection to all connected devices. The Power Station features 3 surge protected grounded AC outlets and a folding power plug, providing a compact and portable design for maximum storage and travel convenience.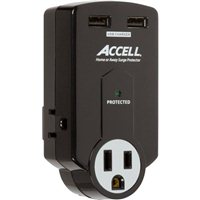 Accell Power Travel Surge Protector - 3 Outlets, 2 USB Charging Ports (2.1A Output), Folding Plug - Black, 612 Joules, Etl Listed
Usually ships in 5-7 business days.