Accell

Accell PowerSquid Outlet Multiplier
Overview
The Power Squid Provides Additional Adapter Compatible Power Outlets. The Power Squid Outlet Multiplier is a safe and easy way to convert 1 grounded wall outlet to 5 grounded adapter-compatible outlets. The Power Squid accommodates up to 5 bulky transformer plugs with ease, providing more flexibility than a standard power strip. Unlike a power strip, the power outlet arms can help prevent damage to a power plug of a connected device. In the case of sudden pull force on a connected device's power cord, the flexible arms bend to the direction of the pull. The flexible power outlet arms bend to accommodate pull force from most any direction. Please note, this model does NOT provide surge protection from electrical spikes or power surges. To protect itself from damage, the Power Squid will turn off if the devices plugged-in malfunction or if the total power drawn exceeds 1875 Watts. Simply remove any connected as needed to be under the 1875 Watt capacity and toggle the power switch to reset the circuit breaker.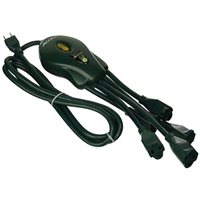 Accell PowerSquid Outlet Multiplier
Usually ships in 5-7 business days.