Accell

Accell PowerSquid Jr. Outlet Multiplier - Black
Overview
The PowerSquid Jr. accommodates up to 3 bulky transformer plugs with ease, providing more flexibility than a standard power strip. Unlike a power strip, the power outlet arms on the PowerSquid Jr. can help prevent damage to a power plug of a connected device. In the case of sudden pull force on a connected device's power cord, the flexible arms bend to the direction of the pull. The flexible power outlet arms bend to accommodate pull force from most any direction.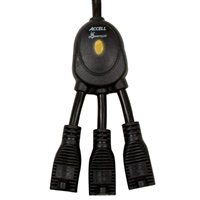 Accell PowerSquid Jr. Outlet Multiplier - Black
Usually ships in 1-3 business days.