Accell

Accell Powramid Power Center - Surge Protector and USB Charging Station
Overview
The Powramid Power Center and Surge Protector friendly design is perfect for placement on top of a desk or a conference room table, providing easy access to multiple power outlets. 6 spaced-outlets surge protector with 2 USB charging ports (2.1A). 6ft heavy duty power cord, 1080 Joules. X3 MOV technology protects connected equipment from fire hazard during surge event and provides longer protection lifespan than regular MOV.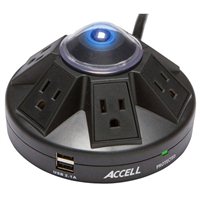 Accell Powramid Power Center - Surge Protector and USB Charging Station
Usually ships in 5-7 business days.