NVIDIA

NVIDIA Founders Edition GeForce GTX 1080 Single-Fan 8GB GDDR5X PCIe Video Card Refurbished
0 NEW IN STOCK at North Jersey Store

Overview
Gamers can now experience the power and performance of GeForce GTX 10-Series GPUs in a mobile form factor. These laptops give you everything you need to unleash your gaming dominance by turning your mobile rig into a sleek, powerful gaming weapon. The GeForce GTX 1080 is meticulously crafted to offer superior heat dissipation using vapor chamber cooling technology and premium materials, so it runs as cool as it looks.
NVIDIA GeForce® GTX 1080
10: GAMING PERFECTED
NVIDIA's flagship GeForce GTX 1080 is the most advanced gaming GPU ever created, powered by the new NVIDIA Pascal™ architecture.
The GeForce GTX 1080 comes with ultra-fast FinFET and high-bandwidth GDDR5X technologies, plus support for DirectX™ 12 features to deliver the fastest, smoothest, most power-efficient gaming experiences. Get the power to drive VR, ultra-high-resolution, and multiple monitors. Plus, bring more realism to every game with NVIDIA GameWorks™ technologies that deliver a true cinematic experience, smoother gameplay, and amazing new image-capture to share your game. All with the lowest latency and plug-and-play compatibility with leading VR headsets.
Performance
Get up to 3x the performance and power efficiency of previous-generation GPUs
Experience the fastest, smoothest, most power-efficient gaming experiences with ultra-fast FinFET and high-bandwidth GDDR5X technologies, plus support for DirectX 12 features
Tap into advanced graphics technologies like NVIDIA GameWorks that provide a more interactive and cinematic experience, as well as incredibly smooth gameplay
Discover next-generation NVIDIA VRWorks™ technologies for low latency, plug-and-play compatibility, and amazing performance that lets you hear and feel every moment
The GeForce GTX 1080 is meticulously crafted to offer superior heat dissipation using an advanced vapor chamber and premium materials, so it runs as cool as it looks
Gaming Technologies
Faster, smoother gameplay
Synchronized frame delivery
Revolutionary new image-capture technology
Virtual Reality (VR)
More immersive experiences
Reduced latency
Innovative new technologies, including audio, physics, and haptics
See Other NVidia GPU Based Video Cards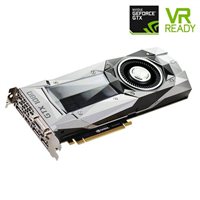 NVIDIA Founders Edition GeForce GTX 1080 Single-Fan 8GB GDDR5X PCIe Video Card Refurbished
0 NEW IN STOCK at North Jersey Store