Adafruit Industries

Adafruit Industries Feather 32u4 Bluefruit LE with Headers
Overview
This is the Adafruit Feather 32u4 Bluefruit with Headers - our take on an 'all-in-one' Arduino-compatible + Bluetooth Low Energy with built in USB and battery charging. Its an Adafruit Feather 32u4 with a BTLE module, ready to rock!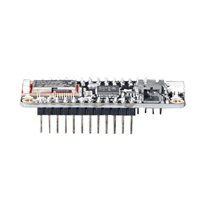 Adafruit Industries Feather 32u4 Bluefruit LE with Headers
Usually ships in 1-3 business days.