Toshiba

Toshiba X300 4TB 7200RPM SATA III 6Gb/s 3.5" Internal Hard Drive
Overview
Toshibas X300 Desktop internal hard drives provide a convenient and reliable way to upgrade every major brand of desktop computer. We combine our reliable hard drive technology with a Serial ATA interface for increased performance, capacity and compatibility. Compatible with every major brand of Serial ATA enabled desktop computer, our hard drives use state of the art Perpendicular Magnetic Recording (PMR) technology, Native Command Queuing (NCQ) and TMR Head Recording technology for increased capacity, reliability and performance.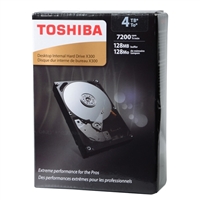 Toshiba X300 4TB 7200RPM SATA III 6Gb/s 3.5" Internal Hard Drive
Usually ships in 5-7 business days.