Audiovox Electronics

Audiovox Electronics 5 Device Universal Remote Control With Streaming
Overview
Replaces and consolidates most major remote brands. Extends Cable: Satellite and Blu-Ray functionality with advanced red: green: yellow and blue keys. Illuminates with green backlit keypad. Streaming controls for Roku: Apple TV and other streaming boxes. Designed and engineered in the USA.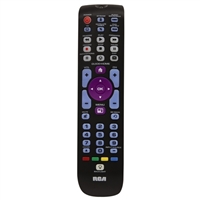 Audiovox Electronics 5 Device Universal Remote Control With Streaming
Usually ships in 1-3 business days.