Lume Cube

Lume Cube Smartphone Clip - Black
Overview
The Lume Cube Smartphone Clip is the perfect accessory to improve your smartphone photo and video. Whether using an iPhone or Android, this clip is compatible with all mobile devices and along with an optional Lume Cube gives you a fully adjustable 1,500 lumen light source right in your pocket! As smartphones get thinner and thinner, the sensors in their cameras become smaller and smaller, which gives us poor results in low light situations. With the majority of spontaneous content in todays world being captured on mobile devices, we decided to create the Smartphone Mount to light up all of life's special moments!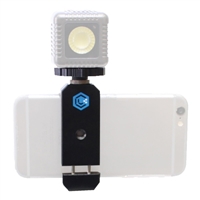 Lume Cube Smartphone Clip - Black
Usually ships in 1-3 business days.