Ring

Ring Chime Pro Wi-Fi Extender and Indoor Chime for Ring Devices
Overview
Extend the reach of your Ring doorbell with the Chime Pro Wi-Fi extender. It plugs into standard electric outlets and boosts the network signal of your Ring so you'll always know when someone is at your door. This Chime Pro Wi-Fi extender has a convenient volume control and issues multiple alert tones for optimal versatility.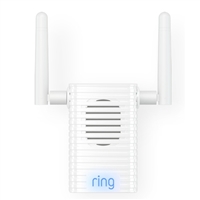 Ring Chime Pro Wi-Fi Extender and Indoor Chime for Ring Devices
Usually ships in 1-3 business days.