AAXA Tech

AAXA Tech M5 Portable HD DLP Mini Business Projector
Overview
The AAXA M5 is the world's brightest battery powered projector and the world's brightest mobile projector by cubic volume featuring a 4th Gen DLP Optical Engine. Producing 900 LED Lumens in "Bright" mode and 500 Lumens in battery mode, the M5 can project up to a 70 screen size in moderately lit rooms and more than a 10 foot screen size in rooms with controlled lighting in a native 1280x800 HD resolution. Measuring just 6" x 6" x 1.8", weighing in at a 1.95lbs, and containing a rechargeable lithium-ion battery capable of up to 70 minutes of continuous running time, this projector is a true micro projector that fits easily in a briefcase, purse, or laptop bag.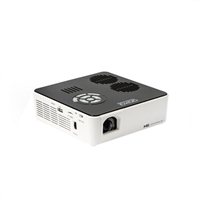 AAXA Tech M5 Portable HD DLP Mini Business Projector
Usually ships in 5-7 business days.