Velleman

Velleman 5VDC Stepper Motor with ULN2003 Driver Board
Overview
A small and versatile motor and driver set. This 5 VDC stepper motor controlled by the ULN2003 driver can be used with any Arduino or compatible boards via jumper leads. Four-phase LED indicates the status of the stepper motor.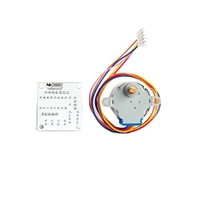 Velleman 5VDC Stepper Motor with ULN2003 Driver Board
Usually ships in 1-3 business days.