Adafruit Industries

Adafruit Industries Stereo Bonnet Pack for Raspberry Pi Zero - Micro Center Edition
Overview
The Pi Zero Stereo Bonnet Pack (not including Pi Zero) sets you up with our I2S 3W Stereo Speaker Bonnet. That bonnet uses digital sound standard I2S right on the 2x20 pin GPIO header, providing really crisp audio. The digital data goes right into the amplifier so there's no static like you hear from the headphone jack. And it's super easy to get started. We even include speakers that you can plug right in! Once you've set up your Pi Zero, run our installer script, reboot and you're ready to jam!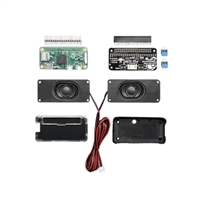 Adafruit Industries Stereo Bonnet Pack for Raspberry Pi Zero - Micro Center Edition
Usually ships in 1-3 business days.