MSI

MSI Thunderstorm Aluminum Gaming Mouse Pad
Overview
MSI Thunderstorm aluminum gaming mousepad is built with anodized aluminum to ensure a tough pad that will not Bed. Its unique l-shape design allows gamers to adjust their keyboard and mouse pad in the most comfortable and suitable battle position without seam transition. Silicone padding in each corner absorbs vibration and prevents sliding during intense gaming sessions. It also supplies additional comfort for your hand at all times.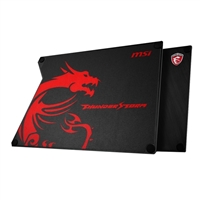 MSI Thunderstorm Aluminum Gaming Mouse Pad
Usually ships in 1-3 business days.