Drobo

Drobo 5C 5-Bay USB 3.0 Type-C Enclosure
Overview
\The Drobo 5C is the latest generation of the award-winning platform that started it all. It holds true to the unique design and simplicity that has made Drobo the best desktop storage solution for storing and protecting all your data. Whether you are at home or in the office storage expertise is not required to ensure your data is always safe and protected. It includes the state-of-the-art USB Type-C connector for a simple way to attach the Drobo to your PC or Mac. USB-C is compatible with both USB 3.0 and USB 2.0.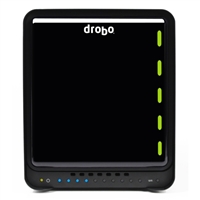 Drobo 5C 5-Bay USB 3.0 Type-C Enclosure
Usually ships in 1-3 business days.