Colorway

Colorway Large 3-in-1 Cleaning Kit
Overview
Universal cleaning kit for cleaning home, office and portable electronics. You will experience the ease and comfort of use due to versatile super dusters, included in the kit. Big bottle and a large duster will ensure a long and enjoyable application of this kit. It removes dust, fingerprints and other contaminants while improving the image due to anti-static and anti-microbial properties of the liquid. Innovative silicone microfiber deals easily with any kind of plastic and glass surfaces, including glasses. It saves time and efforts owing to a large duster that leaves zero streaks in case of liquid overuse. The second cloth is perfect for smartphones and tablets, smoothly cleaning the glass without a sweat.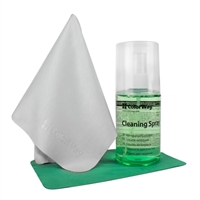 Colorway Large 3-in-1 Cleaning Kit
Usually ships in 1-3 business days.