APC

APC SurgeArrest Essential P6WU2 6-Outlet Wall Tap w/ 2 USB Ports
Overview
Millions of people trust APC to protect their valuable electronics.The SurgeArrest Essential Series offers you peace of mind by providing a lifetime warranty and $50,000 equipment protection policy. You can enjoy maximum protection, safety, convenience, and reliability. Protection Working LED Proactively indicates when protection circuitry is working properly. 6 Surge Protected Outlets defend your valuable electronics from dangerous surges, spikes and lightning. Wall Plate Screw mounts wall tap to wall outlet plateSite Wiring Fault reports when your home wiring is not grounded properly 2 USB Ports provide 2.4 Amps of convenient charging power for your mobile devices, including tablets. Smart Charging recognizes your devices and maximizes charging speed. Best-in-class Service covers a lifetime warranty on the unit and $50,000 lifetime connected equipment protection policy, and free technical support.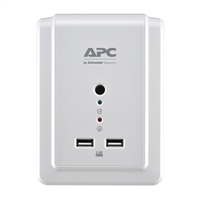 APC SurgeArrest Essential P6WU2 6-Outlet Wall Tap w/ 2 USB Ports
Usually ships in 1-3 business days.