EZQuest Inc.

EZQuest Inc. Mini DisplayPort to HDMI Female Adapter
Overview
Mini DisplayPort to HDMI Adapter can seamlessly connect a Mini DisplayPort or Thunderbolt based Mac to any HDMI display. Our Mini DisplayPort to HDMI Adapter supports full HD output in 1080p with audio on most of today's MacBooks, MacBook Pro, MacBook Air, iMac, Mac Mini or Mac Pro computers. You can easily watch or stream a movie or your personal video from your Mac to your HDTV. Fully Compatible with Thunderbolt Port. Regardless if you have an existing Mac with Mini DisplayPort or if you have the latest MacBook Pro, we have you covered. The Thunderbolt Port is fully compatible with our cable. Extend/Mirror Your Desktop Mini DisplayPort to HDMI Adapter will let you extend or mirror your Mac"s desktop on any HDMI display. Don't feel left behind because your Mac doesn't come equipped with HDMI. Our adapter will solve your HDMI connectivity needs. All in one solution This sleek cable design does come with anodized aluminum casing on both ends to minimize the EM interference. This cable combines the video and audio pass-through into one simple solution. The audio and video are drawn from the Mini DisplayPort, which eliminates cable clutter.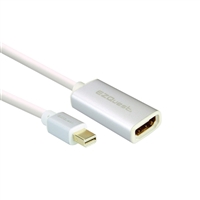 EZQuest Inc. Mini DisplayPort to HDMI Female Adapter
Usually ships in 1-3 business days.