EZQuest Inc.

EZQuest Inc. USB (Type-C) Male to RJ-45 Female Adapter - White
Overview
Fast and Reliable Internet and Network Connection The EZQuest USB-C to Gigabit Ethernet Adapter lets your new MacBook or any USB-C ready computers connect directly to the Internet: when Wi-Fi is not available: or when high performance: sustained: assured connection is required. This accessory is perfect for streaming movies: online gaming: or web browsing. You never have to worry about Wi-Fi dead spots when directly connected. Plug and Play. No Driver Needed. Our Gigabit Ethernet Adapter is small: compact: and ready to go right out of the box without needing to install a driver. Simply plug one end to a Gigabit Ethernet cable and the USB-C end to your new MacBook or compatible USB-C ready device and you're ready to go. Anodized Aluminum Sleeves on Both Ends. Our USB-C to Gigabit Ethernet Adapter is made with anodized aluminum sleeves on both ends to minimize EM interference. What is Thunderbolt 3? Thunderbolt 3 is the USB-C/Thunderbolt 3 that does it all. For the first time: your computers USB-C port connects to any Thunderbolt: USB: or DisplayPort device.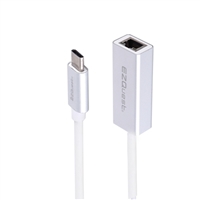 EZQuest Inc. USB (Type-C) Male to RJ-45 Female Adapter - White
Usually ships in 1-3 business days.