Satechi

Satechi USB 3.1 (Gen 1 Type-A) 4-Port Aluminum Hub w/ Card Reader
Overview
The Satechi Aluminum USB 3.1 Hub and Card Reader adds three USB ports and two card reader slots to your computer. This allows you to connect and use USB devices such as digital cameras, external hard drives, flash drives, and printers, all from a single hub. Powered by USB 3.1, this hub provides quick data rates of up to 5.0Gbps.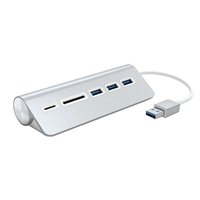 Satechi USB 3.1 (Gen 1 Type-A) 4-Port Aluminum Hub w/ Card Reader
Usually ships in 1-3 business days.