APC

APC Back-UPS 850VA 450W 9-Outlets w/ 5 ft. Cord
Overview
Stay connected to what matters most The APC Back-UPS BE850M2 optimizes the home and small business uninterruptible power supply (UPS) design, performance, and feature set. After listening to our valued customers, we designed a new Back-UPS that is focused on the most critical aspects of a UPS; backup runtime during an outage, number of battery backup outlets, and convenience. The BE850M2s additional battery backup outlets and USB charging ports power more of your critical devices when your home or business electricity is out. Additionally, the new Back-UPS models are designed to maximize battery backup runtime for heavy power consuming electronics (multiple PCs, AV equipment, etc). After safely shutting down your high power equipment, run low power devices (home networking equipment, VOIP) for hours, allowing for internet access throughout extended blackouts. Stay connected to what matters most during outages for longer than ever before.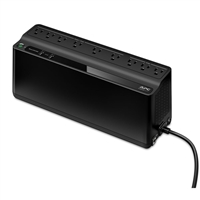 APC Back-UPS 850VA 450W 9-Outlets w/ 5 ft. Cord
Usually ships in 1-3 business days.