Shaxon

Shaxon 6-Outlet AC Power Strip w/ 450J Surge Protection - Black
Overview
Shaxon's 6 outlet surge protected power strip is ideal for connecting electronic devices to a wall outlet while providing protection from power spikes. Surge protectors can wear out over time, especially in areas prone to frequent power spikes. It is recommended to replace your surge protector if you have had a serious electrical event such as a power outage due to lightning blowing out a transformer. This item is UL listed and features a 3 foot cord and 450 joules of surge protection.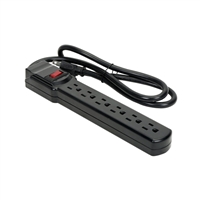 Shaxon 6-Outlet AC Power Strip w/ 450J Surge Protection - Black
Usually ships in 1-3 business days.