Thrustmaster

Thrustmaster T16000M FCS
Overview
The T.16000M FCS Flight Pack from Thrustmaster is a complete solution for playing flight simulation games in VR and non-VR environments. It includes multiple hardware and software features to assist you with a smoother and more accurate experience, while placing multiple commands at your fingertips so you can traverse the skies with ease. Moreover, the joystick features removable parts so you can use it left- or right-handed. When the fight gets tough, use the TWSC throttle to increase your speed to get out of sticky situations or utilize its multiple buttons to unleash your arsenal upon the enemy. Also, the TFRP rudder pedals have a long range of travel on the rudder axis for precise maneuvers, allowing you to dodge threats with accuracy. This Flight controller will work especially well in popular flight games such as Microsoft Flight Simulator and Elite Dangerous.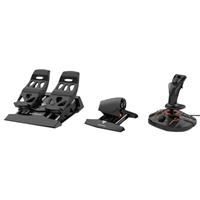 Thrustmaster T16000M FCS
Usually ships in 1-3 business days.