EnGenius Technologies

EnGenius Technologies Neutron Series 8-Port Gigabit PoE Layer 2 WLAN Controller Switch w/ 2 SFP Ports
Overview
EWS2910P is a Neutron Series Managed Wireless Solution 8-Port Gigabit PoE Layer 2 Managed Switch with 2 SFP ports for fiber uplinks. As part of an EnGenius Neutron Series Wireless Management Solution, the EWS2910P through its browser-based interface can discover, configure, manage and monitor up to 20 Neutron Series Access Points. The Neutron Series Distributed Network Management Solution, highly flexible, scalable, fully integrated solution offers simplified configuration and management with enterprise-class performance, feature-rich Managed Access Points, WLAN Controller Switches and ezMaster Centralized Network Management, at an incredible price point with NO AP licensing or tech support fees.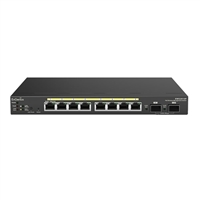 EnGenius Technologies Neutron Series 8-Port Gigabit PoE Layer 2 WLAN Controller Switch w/ 2 SFP Ports
Usually ships in 1-3 business days.