Solarbotics

Solarbotics Superflex 3m 90 LED Strand with 3xAA Battery Box - RGB Cycling
Overview
The battery-box LED String is really quite brilliant, with an LED located every 3.3 cm over 10' for a total of 90 LEDs. The RGB version is a true RGB preprogrammed to cycle through the rainbow of brilliant colors.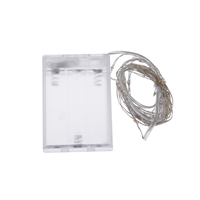 Solarbotics Superflex 3m 90 LED Strand with 3xAA Battery Box - RGB Cycling
Usually ships in 1-3 business days.