Das Keyboard

Das Keyboard Prime 13 LED Backlit Mechanical Keyboard w/ Cherry MX Brown Switches
Overview
Das Keyboard Prime 13 is a minimalist mechanical keyboard designed to take productivity to the next level. Free of fancy features, the Prime 13 delivers an awesome typing experience by focusing on premium material and simple design. Featuring an anodized aluminum top panel, Cherry MX switches with white LEDs, USB pass-through and an extra-long braided cable, the Prime 13 is the ideal mechanical keyboard for overachievers who want get the job done.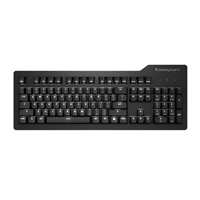 Das Keyboard Prime 13 LED Backlit Mechanical Keyboard w/ Cherry MX Brown Switches
Usually ships in 5-7 business days.