SRA Soldering Products

SRA Soldering Products Ritocco Advanced Retouching Tool for 3D Prints
Overview
Ritocco is the most advanced heated interchangeable tool for cleaning up 3D printed objects. The Ritocco can easily cut through support material "like a hot knife cutting through butter" or use a blending tip to even-out rough areas. Ritocco has an easy and advanced mode. The Easy mode has preset temperatures for PLA and ABS Mode for fast setup. The advanced mode allows the user to select their own temperatures based on their experience.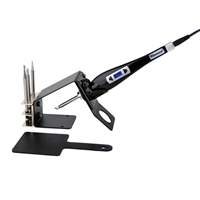 SRA Soldering Products Ritocco Advanced Retouching Tool for 3D Prints
Usually ships in 1-3 business days.