CyberPower Systems

CyberPower Systems 6-Outlet 500J Surge Protector w/ 2 USB Ports & 4 ft. Cord - Black
Overview
The P604URC1 Surge Protector is ideal for Home/Office protection with 500 joules, 6 outlets, 2 USB charge ports (2.4 Amp shared), and a power cord (4 ft). The surge protector is ideal for protecting personal computers, phones/fax/modems, printers, stereos, and other electronics. Its two USB are perfect for keeping tablets, smart phones, and other rechargeable electronics ready to use. The P604URC1 features six outlets, key-hole mounting slots, MOV technology to guard the surge protector and connected electronics against line abnormalities and lightning surges and EMI/RFI filters block unwanted line noise.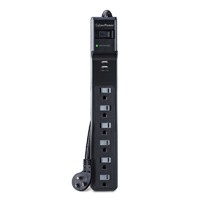 CyberPower Systems 6-Outlet 500J Surge Protector w/ 2 USB Ports & 4 ft. Cord - Black
Usually ships in 5-7 business days.