Satechi

Satechi 5-Port USB Charging Station Dock - White
Overview
The Satechi 5-Port USB Charger allows you to charge up to five devices simultaneously via USB ports. With 5 ports providing 2.4 amp and one Qualcomm Quick Charge port that can provide 5V/9V/12V of power: you can charge smartphones, tablets, music players, cameras, and more.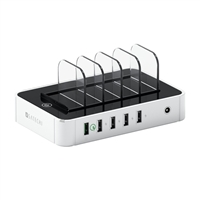 Satechi 5-Port USB Charging Station Dock - White
Usually ships in 1-3 business days.