Aluratek

Aluratek 2-Port Wall Outlet USB Charging Faceplate
at Cambridge StoreNot Carried

Overview
2-Port Wall Oulet USB Charging Faceplate is a great way to charge your smartphone, tablet or any USB device right from any electrical plug without losing an outlet. Installation is quick and easy with no batteries. No wiring, no electricians and no fuss. The USB charging faceplate simply snaps into place around the wall outlet and draws power right from the outlet.
More Information on the Aluratek 2-Port Wall Outlet USB Charging Faceplate
Aluratek 2-Port USB Charging Wall Plate
The easiest way to charge your mobile devices! Aluratek's 2-Port USB Charging Face Plate fits any single-circuit duplex outlet creating a simple charging port for your USB device, tablet, or smartphone. Even better, the wall plate maintains both outlets while providing the additional USB port.
No batteries
No wires
No electricians
No fuss
Installs quickly. The USB Charging Face Wall Plate fits easily into place, enabling the prongs to draw power right from the outlet.
Not for use with dual or GFI outlets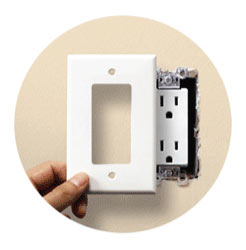 Step 1
Shut off the power and remove the wall plate from the outlet.
---
Step 2
Insert the prongs around the outlet and the wall plate charger snaps into place.
---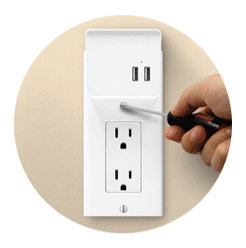 Step 3
Replace the wall plate screws
---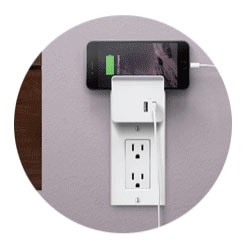 Step 4
Charge your USB device (USB OUTPUT: 5V / 3.1A)
Learn More about Aluratek 2-Port USB Charging Face Plate
Aluratek 2-Port Wall Outlet USB Charging Faceplate
at Cambridge StoreNot Carried