Tenba

Tenba Universal Flash Card Wallet
Overview
Store up to 8 CF, 12 SD, or Micro SD cards in the Tenba Tools Reload Universal Card Wallet from Tenba. This slim wallet is comprised of two zippered mesh pockets allowing you to store a variety of cards in one location. Red and green pull tabs aid in organization providing one pocket for empty cards and one pocket for full cards. A touch-fastening closure keeps your wallet closed when tucked into a bigger photo bag while a security cord can attach to a D-ring within your bag for easy retrieval.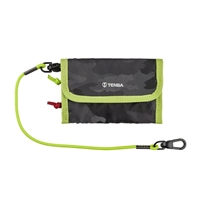 Tenba Universal Flash Card Wallet
Usually ships in 1-3 business days.