Arctic Cooling

Arctic Cooling F12 Fluid Dynamic Bearing 120mm Case Fan
Overview
The Fluid Dynamic Bearing comes with an oil capsule that avoids lubricant leakage. Thus this bearing is as quiet as a sleeve bearing but comes with a significantly higher service life. The innovative design of the fan blades improves the air flow and facilitates a highly efficient ventilation. The impeller was designed with a focus on minimizing the noise level yet delivering the desired airflow and pressure.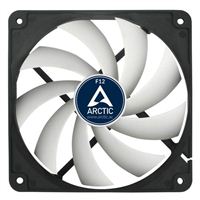 Arctic Cooling F12 Fluid Dynamic Bearing 120mm Case Fan
Usually ships in 5-7 business days.