BeagleBoard

BeagleBoard BeagleBone Black Rev. C Board
Overview
BeagleBone Black is a low-cost, high-expansion, maker-focused, community-supported open hardware computer for developers and hobbyists, small enough to fit in a mint tin. Built on a high-performance TI ARM processor, the BeagleBone Black boots Linux in around 10 seconds and gets you started developing through your web browser in less than 5 minutes with just a single USB cable. BeagleBone Black has all the capabilities of the original BeagleBone plus additional features like HDMI output. BeagleBone Black brings full-featured Linux to places it has never gone before!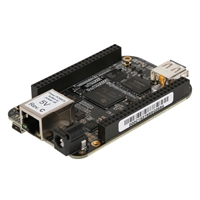 BeagleBoard BeagleBone Black Rev. C Board
Usually ships in 1-3 business days.