Adesso

Adesso NuScan 2400U Waterproof Handheld CCD Barcode Scanner
Overview
The sturdy, reliable Antimicrobial Waterproof Adesso NuScan 2400 Barcode Scanner delivers superior performance and versatility for industrial environments. Whether in a medical, manufacturing, warehouse, or retail environment the Adesso Waterproof Barcode Scanner offers durability, accuracy excellent reliability and a user-friendly easy to hold comfortable handle which adds for a more productive mobile environment. The Adesso Nuscan 2400U withstands accidental drops from up to 20 feet and is standard IP67 which is waterproof and dustproof. Scan from up to a foot away from your barcode, in a dusty warehouse, drop it accidentally or even submerge it in water for 30 min, and you still would not be able to break this scanner's productivity, reliability or durability.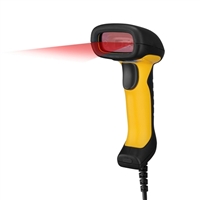 Adesso NuScan 2400U Waterproof Handheld CCD Barcode Scanner
Usually ships in 5-7 business days.