ASUS

ASUS GeForce GTX 1060 Overclocked Dual-Fan 3GB GDDR5 PCIe Video Card
Buy eligible GeForce GTX video cards or systems, get the Fortnite Bundle FREE!

Overview
Powered by NVIDIA Pascal, the Dual-fan GTX 1060 delivers cool overclocked performance with a 1809 MHz Boost Clock and patented wing-blade fans shrouded in white to match ASUS motherboards. GPU Tweak II with XSplit Gamecaster provides ultimate monitoring and streaming control, while Super Alloy Power II provides precise power delivery.

If Victory Royale is your mission, the GeForce Fortnite Bundle is just for you. For a limited time, get Game Ready with GeForce GTX 1070 Ti, GTX 1070, GTX 1060, GTX 1050 Ti, or GTX 1050, and get the GeForce Fortnite Bundle. You'll receive 2000 V-Bucks and the Fortnite Counterattack Set. Whether you're a newcomer looking to skydive into Fortnite or a seasoned veteran looking to purchase the Season 7 Battle Pass, 2000 V-Bucks has you covered. Enjoy the ultimate Battle Royale experience with GeForce GTX graphics and be the last one standing. Here's what's in the Fortnite Counterattack Set:
2000 V-Bucks
Fortnite Counterattack Set
"Reflex" Outfit – Rare
Pivot" Glider – Rare
"Angular Axe" Pickaxe – Uncommon
"Response Unit" Back Bling
*Terms and Conditions apply.
This promotion is available for a limited time or while supplies last. Qualifying graphics cards: GeForce GTX 1070 Ti, GTX 1070, GTX 1060, GTX 1050 Ti, or GTX 1050, Game must be redeemed via GEFORCE EXPERIENCE on a desktop with qualifying graphics card installed. Customer must meet the age requirement for the game to redeem. Regional/Country Requirements: Some coupons require that they be redeemed in specific regions or countries they were purchased in. Please redeem the code in the appropriate region/country.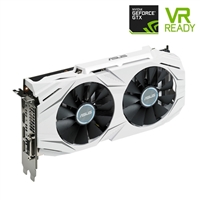 ASUS GeForce GTX 1060 Overclocked Dual-Fan 3GB GDDR5 PCIe Video Card
at Fairfax StoreSold Out